Click Here To Enter Our A&I Products All Parts Store
(or click on the Categories below) For fast searching enter your OEM part # in search box

Ag Tractor Parts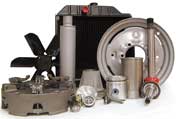 Industrial/Construction
Over 160,000 parts are offered by Waters Tractor for the Agricultural and Industrial/Construction Industry. A large number of those are for tractor applications, such as: Service Manuals, Brake Parts, Decals & Emblems, Front and Rear Axles & Parts, Hubs & Spindles, Tie Rods, Drag Links, Shafts, Fenders, Hoods, Glass, Cab Foam Kits, Grilles & Panels, Rims, Steering Gear Assemblies, Power Steering Kits, Hydraulic Pumps, Transmission Parts, Differentials, Hitches, PTO Parts, Drawbars, Foot Boards and numerous other products. Additional tractor parts continue to be added daily.
Cooling System Parts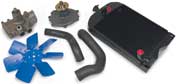 Waters Tractor on-line store carries cooling parts such as: Radiators, Water Pumps, Hoses, Belts, Thermostats and More. This line of radiators is designed with strong mounting brackets, side rails and frame to stand up to rough field work. The core is also designed in such a way that it limits exposure to dust, chaff, dirt and seeds, for a longer lasting radiator with less maintenance.
Mufflers

Aluminized construction along with seam-welded shell bodies give these mufflers longer life. Back pressure levels along with inlet and outlet sizes all meet OEM specifications. Our on-line store ships from warehouses from locations near you that carries mufflers for most agricultural equipment including: Tractors, Harvesters, Combines and More.
(note: Manifolds are not in the muffler section, for an extensive inventory of manifolds try searching by Machine Application then "Engine Parts".)
Engine Parts/Engine Kits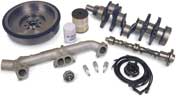 Waters Tractor on-line store offers a wide variety of engine parts. Crankshafts, Tune-Up Kits, Filters, Camshafts, Pumps, Flywheels, Gaskets, Manifolds, Gears, Gauges and More.
(note: For best search results try searching by your "Machine Application" then "Engine Parts" or "Engine Kits".) (Ag & Industrial engine parts are a different line than the engine parts offered at our PowerMax Engine Parts Catalog. Both are high quality, shop and compare.)
Clutches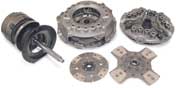 Our tractor shop has 39 years of experience with suppliers that have both new and remanufactured clutches and torque amplifiers. That why we personally know the parts you purchase meets or exceeds OEM specifications at a fraction of the OEM price. This is made possible by knowing which parts need to be replaced and which ones need to be reconditioned. Where a part needs to be replaced, a new part is substituted.
Combine Parts

Waters Tractor is proud to provide many products for the agricultural market and continues to expand its product line for combines and other harvesting equipment. Click on the picture for the following products: Augers and Related Parts, Belts, Concaves, Corn Head Parts, Chain, Clean Grain & Return Elevator, Feederhouse Chain and Parts, Shafts, Sprockets, Pullies, Grain Handling Parts, Elevator Chains, Grain Head Parts, Radiators, Axle Parts, Sickles & Parts, Threshing Parts, Sprockets, Sheaves, Hubs, Tie Rods, Ball Joints, Water Pumps, Gaskets and Much More.
Air Conditioning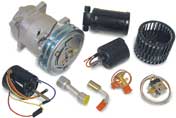 Waters Tractor on-line store has A/C parts for most models of tractors & combines. Parts available include: Auxilary Heaters, Blower Motors, Blower Wheels, Compressors, Compressor Parts, Condensors, Expansion Valves, Filter Driers, Gaskets & ORings, Heater Control Valves, Hose, Hose Fittings, Hose Kits, Switches & More.
(If you cannot find your A/C part also try the Misc Air Conditioning Parts section.)
Electrical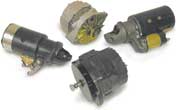 For your electrical needs search our on-line store for these products: Starters, Alternators, Battery Cables, Battery Ground Straps, Starter Solenoids, Spark Plugs, Spark Plug Wires, Distributor Caps, Tune Up Kits, Rotors, Point Sets, Voltage Regulators, Electrical Wire, Terminals, Fuses and a wide variety of lights.
Ag & Industrial Belts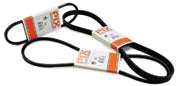 Automotive Belt Application Chart
Enter Your Manufacturers Belt # Here
Over 100,000 belt numbers. Belt profiles include wrapped, cogged, banded, double angled, serpentine, variable speed, metric, wedge, Kevlar, and a wide variety of specialty belts. These belts fit almost any application including: Cars, Trucks, Boats, Diesel Engines, Tractors, Heavy Equipment, Combines, Swathers, Farm Equipment, Hay Bines, Agitators, Cranes, Power Units, Bricksaws, Concrete Cutting Equipment, A/C HV, Air Compressors, Generators, Pumps, Oilfield Equipment, Grain Elevators, Medical Industry Equipment, Textile Machinery, Food Processing Equipment, Packaging Machinery, Printing Trade Equipment, Conveyers, Rock Crushers, Wood Working Machinery, Saws, Wood Chippers, Mowers, Garden Tractors, Riding Lawn Mowers, Snow Throwers, Augers, Irrigation Systems and More.
Driveline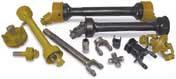 Driveline (By Application)
Waters Tractor on-line store offers an extensive list of drivelines for brands such as: Walterscheid, Bondioli & Pavesi, Comer, Weasler, Neapco & Binacchi. These brands cover Constant Velocity Drivelines, Ag Master US Standard Sizes, Metric, Economy PTOs and PTO Parts.
Bearings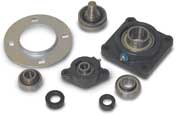 Waters Tractor distributes bearings from manufacturers with a consistently high level of quality. A list of bearing types offered through our on-line store are: Spherical, Cylindrical, Flanged Units, Pillow Block Units, Disc Bearings, Cam Follower, Plunger Roller, Flangettes and More.
Hay Tool Parts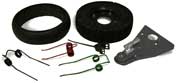 Waters Tractor on-line store has a long list of parts for the hay season, that list continues to grow daily. Hay parts offered are as follows: Disc Mower Blades & Parts, Rotary Cutter Blades & Parts, Mower Blades, Fingerwheels, Bearings, PTOs & Parts, Teeth, Baler Belting & More.
Hitch & PTO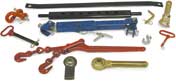 A wide variety of parts are available at our on-line store for all your hitch & pto needs including: Weld On Ends, Lift ArmPins, Top Links, Jacks, Hair Clips, Drawbars, Stabilizer Arms, Kits & Assemblies, PTO Adapters, Clevis, Grab Hooks and a large variety of pins including Hitch Pins, Linch Pins and More.
Hydraulic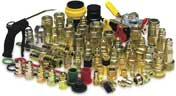 Waters Tractor on-line store offers a full line of hydraulic hose & fittings. Products are available in all sizes & lengths to help meet all your hydraulic needs. In addition to Hydraulic Hose, Adapters and Fittings. We also offer Cross Control Valves, Cylinders, Pins & Breathers, Joy Sticks, O-Rings and More.
Accessories/Miscellaneous/Shop Supply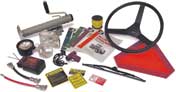 Waters Tractor on-line store offers additional parts for your shop or home use and this list continues to grow.
Air Compressors, Generators, Pressure Washers, Space Heaters, Video Systems, Tool Boxes
, Coolant Tank Heaters, Grease Fittings, Hose Clamps, Trailer Hitches & Balls, Trailer Jacks, Umbrellas & Buggy Tops, Zerks, Grease Guns, Oil Pumps, Funnels,
ATV Service Manuals, Tractor Service Manuals
and more. Questions about on-line ordering policies, shipping, warranty and return information, can be answered on our on-line store. Disclaimer: We sell new and remanufactured replacement parts for use in the equipment of various manufacturers. The use of any original manufacturers name/part/model numbers are for reference purposes. Our business and the parts contained herein are not sponsored, affiliated, nor otherwise connected in any way with the equipment manufacturers named in this website. All registered trademarks are used as reference only.